Call 855-299-6141
Proudly Serving Los Angeles, Orange, Riverside & San Bernardino Counties
ANTS
Ant infestation is the most commonly reported pest problem. These tiny scavengers will enter your home or business looking for moisture and an accessible food source. Rotting or damp wood that is moldy can attract ants. Ants also feed on sugar, cheese, meats, vegetables, grease, peanut butter, and dead insects. Ants often enter a home through cracks around windows or doors, but they can find numerous entrances to your home or building. Once inside, the growing ant colony can become a problem quickly, as ants mature from juveniles to adults within a matter of days.
It is necessary to properly identify the ant species that you have in order to effectively eradicate them. Of the thousands of species of ants, the four listed below are the most commonly found in the United States.
Carpenter Ants: are about five eighths inches long. They tend to burrow in damp wood but have also been known to damage solid wood. They do not eat the wood, but simply remove it in order to build a nest.
Red Imported Fire Ants: vary in size from one-eighth to three-eighths inches. They construct large mounds for nests and administer painful stings.
Pavement Ants: are about one-eighth inch long. They generally make their nests in pavement cracks and are also capable of infesting a building.
Pharoah Ants: are about one-sixteenth inch long. These ants are commonly found in hospitals and nursing homes, where they are are capable of transmitting Staphylecoccus and Psuedomonas infections. Pharoah Ants also invade restaurants, apartment buildings and similar dwellings.
Ants with wings can easily be mistaken for termites, which may lead to a wrong treatment. In comparison, ants have a very narrow thorax (mid-section), while termites' bodies are more uniform.
BEDBUGS
Bed bugs feed on blood as their only source of nutrition. In order to mature into adults, they must feed once during each of their immature stages. Adult females also need blood in order to produce eggs. Although bedbugs do bite humans, they are not known to transmit diseases to people.
Bed bugs are flat, reddish-brown, oval insects up to 4 to 5 mm long or the size of an apple seed. Swollen and reddish after a blood meal.
Bed bugs only feed on blood. Under cool conditions, bed bugs have been able to survive up to a year without a meal. They prefer to be more active at night when the host is asleep.
Bed bugs are found in cracks and crevices, including mattress seams, sheets, furniture, behind baseboards, electrical outlet plates and picture frames. Often found in hotels, where they can travel from room to room and in visitors' luggage or other personal belongings such as purses and briefcases.
Reproduction
Females can deposit one to five eggs a day, and may lay 200 to 500 eggs in a bed bug's lifetime. Under normal room temperatures and with an adequate food supply, they can live for more than 300 days.
Signs of a Bed Bug Infestation
1 –
Seeing the bugs:
Adult bed bugs are about the shape and size of an apple seed.
2 –
Case skins:
As the juvenile bugs grow, they shed their skins, discovery of which can indicate their presence.
3 –
Defecation:
After feeding, bed bugs return to their harborage to hide where they defecate black to brown stains on porous surfaces or black to brown mounds on nonporous surfaces.
4 –
Bites
also may indicate bed bug activity, but further signs will need to be found, since other sources can cause red welts on the skin.
RESIDENTIAL PEST CONTROL
Our residential services are tailored to home-owners, apartment communities, HOAs and property management companies.

 

We offer one-time services, on-call and regularly scheduled maintenance services.

 

Our inspections are free and if you need an escrow termite report, we can provide one to you for a nominal fee.

 

Pest Innovations technicians are state licensed and fully equipped to handle your residential pest problems. Based on your needs and budget, we offer monthly, bi-monthly and quarterly service.

 

For more information about our residential services, call Pest Innovations today!
COMMERCIAL PEST CONTROL
We know what we are doing.
20 years plus in the field

Second generation in the pest field

We listen to what your needs are

Integrated Pest Management is what we do best

We work WITH you to resolve your issues
Call (855) 299-6141

Pest Innovations….. More than JUST pest control.
COCKROACHES
Cockroaches, are the most common insect pests infesting homes, food service establishments and other structures in Kentucky. Cockroaches are repulsive and objectionable to most people simply by their presence. They are also capable of mechanically transmitting disease organisms such as the bacteria which cause food poisoning. Recently, cockroaches have been found to be an important source of allergy in people, second only to house dust.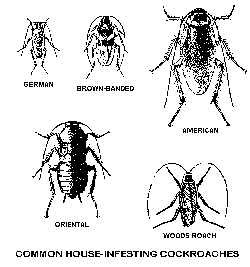 The German cockroach is by far the most common roach found in homes. 
Oriental and American cockroaches usually prefer dark, damp areas
 such as basements, floor drains, crawl spaces, and utility closets.
Cockroaches typically become established in homes after being introduced in grocery bags, with laundry or, in some cases, wandering in from outdoors. Once cockroaches become established they are prolific breeders capable of producing several thousand offspring in a year. 
Cockroaches prefer to live where there is food, warmth and moisture. Since cockroaches flourish where food and moisture are readily available, sanitation is an important step in prevention and control. Empty soft drink bottles, cardboard boxes and paper bags should not be allowed to accumulate. Food containers should be sealed and any crumbs or spillage cleaned up. 
Unlike many household pests, cockroaches are prevalent year-round, causing homeowners and businesses to eventually seek some form of control. 
FLEAS
Ridding a home of fleas can be a frustrating and costly endeavor. Unlike some pests encountered around the home, fleas cause discomfort and irritation to both pets and people. Fleas account for more than half of all dermatological conditions requiring veterinary assistance, and even a single flea bite to a hypersensitive animal or person may cause intense itching and irritation. 
For successful flea control, the home, pet and oftentimes, the yard must be treated. Yet the manner in which these treatments are performed can greatly influence the results. The following information will help frustrated pet owners effectively rid their homes and pets of fleas. 
Essential Facts About Fleas
Adult fleas (the biting stage seen by pet owners) spend most of their time on the animal, not in the carpet. This is why treatment of the pet in conjunction with the pet's environment is an essential step in ridding a home of fleas.
Adult fleas lay all of their eggs (up to 50 per day) on the pet. However, the eggs soon fall off the animal into carpeting, beneath the cushions of furniture, and wherever else the pet rests, sleeps or spends most of its time. This is where homeowners should focus control measures.
After hatching, flea eggs develop into tiny, worm-like larvae. Larvae remain hidden deep in carpet fibers, beneath furniture cushions and in other protected areas. The larvae feed mainly on adult flea feces (dried blood) which accumulates, along with the eggs, in pet resting and activity areas.
Before becoming adult fleas, the larvae transform into pupae within a silk-like cocoon. Pupae remain inside the cocoon for 2 to 4 weeks, sometimes longer. The cocoon is resistant to insecticides and this is why some adult fleas are seen for an extended period, even after the home and pet are treated. 
BEES & WASPS
While we benefit from honey bees by their pollination and honey they collect, they can be serious pests at times. Bees that establish a hive in a home can be a problem because of increased hazard of humans being stung. Trash bins and recycling centers may also encourage robbing honey bees. 
Honey bees typically search for flowers containing nectar and pollen for food. However, they are very opportunistic, and will seek syrups, sugar, fruit juices, and other sweet substances within easy access when flowers are not available. 
During the summer and fall when flowers are less numerous, robber honey bees and wasps can be very serious pests in places such as around trash containers and aluminum can recycling centers. Proper sanitation is the key to control of these problems. 
Areas in which syrup or other sugars are frequently spilled or accumulate should be cleaned regularly to discourage honey bees. The use of plastic can liners and lids for trash cans will discourage honey bees. 
In areas such as aluminum can recycling centers where it may not be practical to keep these areas clean, barriers such as windows and door screens, or lids on bins should be installed. A few initial bees discovering a readily available sugar source can recruit a larger number in a short period of time. 
In the fall, bees and wasps may be troublesome in orchards or gardens when feeding on damaged, dropped or overripe fruit. Fruit drops, bird‑damaged fruit and overripe fruit should be collected regularly and discarded. 
WASPS
Paper wasps, hornets and yellow jackets are a potential health threat. Hundreds (perhaps thousands) of people in the United States die each year from allergic reactions to the venom of these insects. Wasps, hornets and yellow jackets are more dangerous and unpredictable than honey bees and should be treated with respect; nests should be eliminated with great care and in a specific manner. 
Paper wasps, hornets and yellow jackets construct nests of a paper-like material which is a mixture of finely chewed wood fragments and salivary secretions of the wasps. Paper wasps typically build their umbrella-shaped nests under eaves and ledges. These wasps are not as aggressive as yellow jackets or hornets, and can be eliminated rather easily with a wasp and hornet spray sold at most grocery and hardware stores. These formulations have an added advantage in that they often spray as far as 20 feet. 
Treatment of wasps, hornets, and yellow jackets is best performed at night; paper wasps can be eliminated during the daytime provided you do not stand directly below the nest during treatment. Most wasp and hornet sprays cause insects to drop instantly when contacted by the insecticide. Standing directly below a nest increases one's risk of being stung. 
BEETLES
Beetles make up the largest category of insects in the world, accounting for approximately 25% of all life forms on earth. In fact, there are more than 5 million different species of beetles.
Beetles are easily identified by their hard outer shell, which covers their wings. Their wings are exposed only during flight. A beetle's body consists of three sections: a head, a thorax, and an abdomen.Adult beetles do not eat wood, only the beetle larvae do. When you see holes in either structural wood or in furniture, it is because the larvae have already left and you are seeing the exit holes. This could be an indication of a nearby infestation. Generally, beetles are attracted to the same type of wood from which they were born.
Some beetles, such as the common Ladybug, are actually advantageous to have around. They are known to keep down the population of other insects, so you should not attempt to destroy them or any other beneficial beetle species.
Treating for beetles requires proper knowledge of the type of beetle species you are trying to eliminate. Wood eating beetles, for instance, cannot be effectively treated using sprays because they are located deep within wood. If you think you may have a beetle infestation, your local pest professionals will have the knowledge,resources and solution to the problem.
RODENTS
Mice and rats are a problem when they find their way into your home. They like to be near humans so that they have a ready supply of food. This has earned them the term "commensal," which means "to share one's table."
The class of creatures called "rodents" actually encompasses a much more than just mice and rats. It refers to any animal whose incisor teeth continue to grow, so they must continually gnaw in order to keep them serviceable.
There are more than 2,200 different rodents. Together they make up more than 40% of all mammals. In this group you will find: mice, rats, squirrels, capybaras, nutria, chipmunks, prairie dogs, and many more.
Removing rodents can sometimes be as easy as setting a mouse trap; but a larger infestation (especially with rats or larger rodents) can be larger issue. Rats, especially, are smart and can learn to avoid traps.
Rodents can carry up to thirty-five diseases that humans are susceptible to, which is another reason to eliminate them as soon as possible. Cleaning up after a rodent infestation also requires a great deal of caution. This is necessary because of the possibility of fleas or mosquitoes, which may transmit their own diseases to you, your children and pets. There is also risk involved if you inadvertently stir up the dust of their nests; it can be hazardous to breathe in the bacteria contained within.
Rodents can also do physical damage your home or business. They easily chew through some types of siding and other building materials. They are also known to chew on electrical lines, thereby increasing the possibility of fire. They damage other materials as well, creating holes and gnawing on numerous objects, especially food or food containers.
Removing rodents can be difficult. A professional pest management company will identify nesting areas and feeding grounds and know how to completely eliminate them. Proper cleanup is also performed, ensuring that you and your family are safe from allergies, illness and possible future infestation.
TERMITES
Entomology departments often receive more calls about termites than any other household insect. Subterranean termites are serious pests, whose control is best left to professionals. Termites and termite management services can be confusing, however, and there are more options available today than ever before. Some of the most common termite questions raised by homeowners are answered below.
Why worry about termites?
Why are infestations often discovered during March – May?
How will I know if my home is infested?
Can I treat the house myself?
How do I choose a termite control company? Why is there such variance in price?
Which treatment methods and products are most effective?
Does the entire house need to be treated — or can they just treat areas where I see termites?
How long will the treatment last?
Will the chemicals harm my family or pets?
Have I been "cheated" if termites continue to infest my house after treatment? 
Q: Why worry about termites?
A: Termites cause billions of dollars in damage each year. They primarily feed on wood, but also damage paper, books, insulation, and even swimming pool liners and filtration systems. Termites can injure living trees and shrubs, but more often are a secondary invader of woody plants already in decline. While buildings may become infested at any time, termites are of particular importance when buying or selling a home since a termite inspection/infestation report is normally a condition of sale. Besides the monetary impact, thousands of winged termites emerging inside one's home are an emotionally trying experience — not to mention the thought of termites silently feasting on one's largest investment. 
Q: Why are infestations often discovered during March – May?
A: Spring typically is when large numbers of winged termites, known as "swarmers," emerge inside homes. In nature, termites swarm to disperse and start new colonies. Triggered by warmer temperatures and rainfall, the winged termites emerge from the colony and fly into the air.   
The swarmers then drop to the ground, shed their wings, pair off with a mate, and attempt to begin new colonies in the soil. Few swarmers emerging outdoors survive to start new colonies. Swarmers emerging indoors are incapable of eating wood, seldom survive, and are best removed with a vacuum. They do, however, indicate that an infestation is present. 
Q: How will I know if my home is infested?
A: Discovering winged termites indoors almost always indicates an infestation warranting treatment.